Live Well Georgetown County – Early Learning Work Group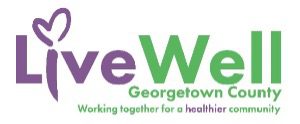 Who are we?
The Early Learning Work Group was formed as an initiative of the Live Well Georgetown County Coalition that is administered by Tidelands Health Community Health Resources and funded by the Duke Endowment. We are a group of civic leaders, professional educators, and organization representatives who collaborate to improve the health and wellness needs of young children by increasing or supporting the use of Evidence Based Initiatives (EBIs).
Members of the Early. Learning Work Group
Carolyn Ellis (Chair) – Early Learning Council – Retired Professional Educator
Tim Chatman – Master Gardner
Susan Evans – Small Minds of Tomorrow 2 Teacher
Shawn Garrett – Tidelands Health Community Health Resources Team Member
Jeremy Grate – Small Minds of Tomorrow 1 Teacher
Dwane Heyward – Georgetown County First Steps
Geraldine Holmes – Sampit Child Care Center Director
Niki Howard – Pawleys Island Christian Academy Director
Connie Kopowicz- Live Well Georgetown County Program Director
Susan Krowka- Landscape Architect with Walsh Krowka Architects
Karen Moree – Montessori School of Pawleys Island Teacher
Nicola Parker – The Sunshine Place Director
Ashley Riddick – South Carolina Program for Infant/Toddler Care (SCPITC) Be Well Care Well Program
Shelia Sullivan – Georgetown County Library
Molly Tisdale – Sampit Elementary 4K Teacher
Sherrie Vanderhorst – Sampit Child Care Center Teacher
Ad hoc member:
Misty Pearson – DSS/DHEC Director of Obesity Prevention Services
What do we do?
We share this Vision and Mission:
Vision: Every child in Georgetown County will develop nutrition and activity habits that lead to a healthy lifestyle.
Mission: To bring evidence-based health-focused interventions to the young children of Georgetown County.